Calculate Your Loan
SHOULD EQUATE TO A LOAN OF
Unfortunately, based on your criteria, your loan would not be able to cover the cost of this car and you may need to put a deposit in. Please adjust the slider until the box turns green.
Finance Example
Cash price:
£

0.00

Deposit:
£

0.00

Amount of credit:
£

0.00

Rate of interest:

7.4

% per annum
Amount of interest:
£

7.4

Lender Documentation fee:
£

0.00

Lenders option to purchase fee:
£

0.00

Total charge for credit:
£

7.4

First repayment:
£

0.00

Followed by

58

Monthly repayments of:
£

0.00

Final repayment:
£

0.00

Total amount payable:
£

0.00

Representative APR:

0.0

%
The above finance example gives you a great indication of the finance quote you can expect to receive from our panel of lenders based on your credit score. As our lenders consider more factors than just your credit score, the rates may vary a bit. To find out exactly what you can get, use our application form and your personal car finance expert will be in touch ASAP.
UK Car Finance Putting You in the Driving Seat
Sick of dealing with pushy car sales people, bombarded with finance jargon and unsure if you're really getting the best finance available?
At UK Car Finance, you deal with your personal car finance expert, who will secure you the best finance deal you can get, meaning you can walk into the dealership just like a cash buyer. We help you navigate the minefield that car finance can be and ensure you drive away happy.
Long gone are the days of being a backseat buyer! You no longer have to walk into a car dealer and accept the first offer on the table. We will find you the most suitable car finance package so that when it comes to getting a used car, you have the choice of trusted FCA approved dealerships.
At UK Car Finance, we have a wide panel of lenders that we use to seek out the most suitable car finance for you. Whether you are looking for no deposit car finance or hire purchase car finance then we are here to help!
Don't miss out on our best offer yet!
Apply online now with our quick and easy application form
Once you've been accepted, choose your car
Sign the paperwork, collect the car, and drive away!
Frequently Asked Questions
How do I get a car on finance?
To get a car on finance all you have to do is fill out our application form. From there we have to give you a quick 5-10 minute phone call to confirm your details and understand what you want from your finance, (no deposit, specific car etc.). Your personal car finance expert will then match you up with the most suitable lenders and find you a fantastic car loan. You then choose which car finance offer suits you the most, sign the paperwork and you can go off car shopping!
Does my credit score impact on my chances of being approved for car finance?
Your credit score is part of the criteria car finance lenders use to decide whether or not to offer you a car loan. Your recent credit history is more important than long term history therefore, you should apply for credit when your credit score is on the rise to ensure you have the best chance of being approved. Find out how to improve your credit score over on our blog.
What is the criteria for getting car finance?
Must be 18 or older
Must have lived in the UK for 3 years of more
Can not currently be bankrupt
Must be able to prove your affordability
If you can say yes to the above we can help get you car finance.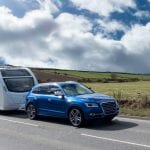 If you're looking for a car that's perfect for towing, it can be hard to find something that's...
read more
Turn on headlights Your headlights are crucial when driving in the rain. Usually, when bad weather...
read more