Look no further for Knaresborough car finance!
Located just a few miles from Harrogate, Knaresborough is a small town perched on the cliffs above the River Nidd. Home to Mother Shipton's Cave, the River Nidd Waterside Walk, Knaresborough Castle and many more popular landmarks! Do you live in Knaresborough and are looking for car finance? UK Car Finance are here to help you find the perfect Knaresborough car finance deal. Don't be a backseat buyer, let us put you in the driving seat and take back control of your car finance deal today.
Hire purchase car finance is more suitable for drivers who want to buy their car outright. As with PCP, you never own the car unless you choose to pay the final 'balloon payment'. HP is one of the simplest forms of car finance. It doesn't necessarily require you to put down a deposit either, as there are many
no deposit car finance
options available. You make fixed payments each month to a fixed term and interest rate, and then once all your payments are made, you then own the car outright! You can also pay for a car using a personal loan option. Within a personal loan agreement, you borrow a lump sum to buy a car and then pay back the money over a set term plus interest. Personal because you have bought the car with your lump sum, you will be the legal owner of the car from the off!

Why should I choose UK Car Finance?
We like to think we're a different kind of car finance provider! With the customer in mind, we want to provide the best experience possible when getting your car finance deal. With UK Car Finance, you can be assured you will get the best car finance deal within your budget. We work with a range of trusted and reliable lenders who are all verified by the Financial Conduct Authority. When you apply with us, you will be assigned your very own personal car finance expert who will be with you every step of the way! They will help you get the best finance deal possible for your budget and help you get the car you want! You can even spread the cost of your car over a term that suits you. We have no hidden charges or unexpected changes to your agreement as your monthly payments and interest rates will be fixed.
How do I apply?
Applying with UK Car Finance is simple! We make your Knaresborough car finance application as easy as 1, 2, 3. Just simply apply online using our online application form which takes only a couple of minutes to complete. We just need to take a few details from you to verify who you are and prevent any fraudulent applications. Then, you will be assigned your very own personal car finance expert who will take you through your application and match you up with the most suitable lender. We work with a range of trusted and verified lenders. Once you have been accepted with a lender, you are then free to choose your car within your budget from any reputable FCA approved dealership in the UK. All our finance deals also come with FREE 3 month warranty for that extra peace of mind! You even have the choice to pay nothing for up to 6 weeks! So you can drive around in your new car without paying a penny. Once your deal is finalised and the paperwork is signed, you are free to enjoy your new car knowing you got the best deal possible for your budget.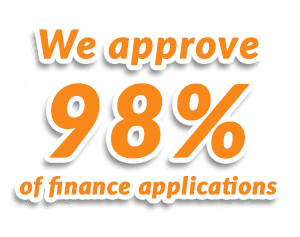 To be offered car finance you must…

Be 18 years old +


Not currently bankrupt


Be a UK resident for 3+ years


Be able to prove affordability


Hold a full UK driving licence
Not sure how much you could borrow? Why not try our online car finance calculator to work out your affordability? Just simply set your car finance budget of how much you can afford each month, tell us how long you'd like to pay it back over and then rate your credit score to get a more accurate quotation. You are then able to browse a range of cars within your budget, or let us source your perfect car from any reputable FCA approved dealership. Not sure how you'd rate your own credit? Our car finance checker has been specifically designed to do exactly that! You can check your credit score online for free before you even apply for car finance! Our checker also provides a 'soft search' on your credit file which means it doesn't harm your credit score whatsoever.
What are you waiting for?
Get your Knaresborough car finance application started today.