Northumberland Car Finance
Do you live in Northumberland and are looking to get a car on finance? Northumberland car finance has never been so simple. Here at UK Car Finance you can use our car finance calculator to find out how much you can borrow. You can check your credit and see your chances of being approved for Northumberland car finance as well as your likely repayment amounts.
If you have ever tried to get Northumberland car finance from other providers you will have had to apply without any idea if you will be accepted. We don't think that is fair! That's why you can check your chances of getting car finance with us beforehand.
Calculate Your Loan
Representive example:
Cash price: £0.00, Deposit: £0.00, Amount of credit: £0.00, Rate of interest: 7.4% per annum, Amount of interest: £7.4, Lender Documentation fee: £0.00, Lenders option to purchase fee: £0.00, Total charge for credit: £7.4, First repayment: £0.00, Followed by 58 Monthly repayments of: £0.00, Final repayment: £0.00, Total amount payable: £0.00, Representative APR: 0.0%
Rates may differ as they are dependent on individual cirumstances. Subject to status.
Why get Northumberland car finance with us?
There are loads of benefits to getting your car finance sorted with us. When you choose to get Northumberland car finance through us, you choose to take back control of your car buying experience. Walking into a dealer and being met by pushy sales people who seek to baffle you and leave you wondering if the deal they're offering will actually be that good for you, isn't our idea of fun.
Fixed Interest Rates
No deposit options
Check your chances of being approved before you apply
Browse cars by your monthly repayments
No brokers fees
Personal car finance expert on hand throughout the whole process
Delay your first monthly payment for up to 6 weeks
That is why we help you to understand car finance so you can make an informed choice. Ultimately you are in control, where you should be. Your personal car finance expert is there to help answer all your questions and do all the boring work behind the scenes. Their experience allows them to match you with the most suitable lenders so you can drive away with a fantastic car finance deal. But essentially you choose the car finance packages to go for.
What are my chances of being approved for Northumberland car finance?
Extremely good! Almost everyone that applies for Northumberland car finance with us received a car finance offer from one or more of our lending panel. However, you don't need to take our word for it. You can actually check your credit to find out your chances of being approved and what your likely interest rate would be. Knowing this before you apply is really useful as you know what to expect when you do send your application.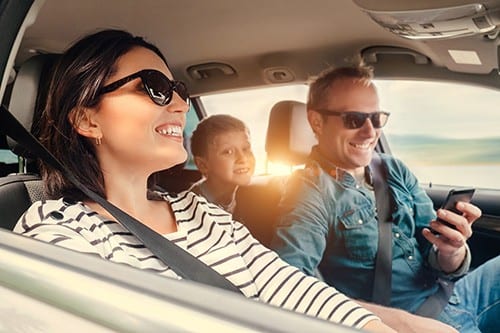 When you check your credit our system performs a soft search which means we leave no footprint behind. Soft searches are great as they don't impact on your credit score and can't be seen by anyone else but you and us, meaning it won't affect the lenders decisions.
Improve your chances of getting approved for Northumberland Car Finance
You can always improve your chances of getting car finance in Northumberland, so if your credit score isn't great then please don't worry!
Improve your credit score
Car finance lenders take your credit score into consideration when looking at whether they should lend you money or not, so it's always wise to try and get a good a score as possible. You should check our top tips to building your credit score blog post to see how you can improve your rating. Regardless of the score itself, a credit report that is improving is more favourable than one dropping. In short, your recent credit history outweighs the stuff from years ago.
If you have a County Court Judgement please wait 12 months
If you have recently received a CCJ we recommend waiting at least 12 months before applying for car finance as some lenders will automatically decline an application if you have a CCJ in the last year. After the 12month mark your options are much wider which helps us get you a much better deal. The bigger the amount your CCJ is for, the harder it is for us to get you car finance. That's not to say we can't, but to get the best rates the longer it was since you received your CCJ, the better.
Negative equity on your current car
If you currently have a car on finance you may be looking to change it. This is called refinancing and if you still have money to pay off and the outstanding balance is more than the value of the car, you are in what is known as negative equity. When we are looking to get you a new finance package, it has to swallow up the outstanding finance on your current car. In order to do that and get a better monthly price than you're currently paying we recommend you are past the mid-point of your current finance deal. If you took out finance for 4 years you need to be past the 2-year mark or the negative equity could likely mean you won't get a better deal. If you still want to apply and see what we can do, by all means you can. But as a general rule, wait until you're past the midpoint.
We make applying for car finance as easy as 3 simple steps
Apply online now with our quick and easy application form
Once you've been accepted, choose your car
Sign the paperwork, collect the car, and drive away!
UK Car Finance are local
We're in Killingworth just outside of Northumberland. When it comes to getting car finance in Northumberland we can get you a fantastic deal. Unlike other local car finance providers, we don't limit your car choice to what's on the forecourt. Car dealers finance you for their cars alone, which may mean you don't get the best car available. Being a broker we don't own any cars which means we can match you up with the best make and model available with our trusted dealers.
Being from the North East ourselves, we have a fountain of local knowledge that you can tap into. You can benefit from our extensive knowledge of the local dealerships and garages to ensure you are well looked after.
Get Northumberland Car Finance Today
Apply for Northumberland car finance with us you can buy a car from a choice of reputable car dealers, so even if you don't see what you like on the website we can still help!