Myths about electric cars
The majority of the world is still yet to join the electric car revolution. However, with that said, there were a number of electric cars which made the best-selling cars of the year list in 2021. So, should you choose to go all-electric in 2022? There are a number of myths about electric cars and many of them just simply aren't true! There are Myths about electric cars around both owning and running an electric car and our blog below is here to debunk them for you.
Let's take a look at the most common electric car myths.
Myth 1: Electric cars are too expensive
When electric cars first hit the market, they were much more expensive to buy than other options available, which is still one of the popular electric car myths to date. Electric cars are powered by much more advanced technology than standard combustion engines and this can rack up the cost. However, there are a number of affordable electric cars on the market today and also a range of used electric cars on finance too! The cheapest electric car in the UK at the moment is the 1. Smart EQ ForTwo which can be financed or bought for £22,159! You can also benefit from a government grant on brand new low-emission vehicles of up to £1,500.
Myth 2: Electric cars can't handle long journeys
Myths about electric cars have been around for years and people still think that electric cars can't handle long journeys due to low range and drivers will suffer range anxiety. New technology and improved batteries in recent years mean that electric cars now have impressive long ranges. The Mercedes EQS 450+ is a luxury, electric version of the S-Class, currently has the longest range with a whopping 453 miles! On average, most people in the UK have a commute of around 22 miles a day according to data from the National Travel Survey. Electric cars are more than capable of this range every day and even the smallest electric cars make great city cars!
What is 'range anxiety'? 
The term 'range anxiety' refers to the feeling by EV drivers that the vehicle will run out of charge before they reach the destination or charging point.
Myth 3: There aren't many electric car charging points across the UK
A popular electric car myth is that electric car charging points in the UK are few and far between. However, this isn't true! As of 2022, there are over 28,000 EV chargers across the UK. There are nominated EV charging stations across the UK and also smaller points can be found in public car parks, supermarkets, shopping centers, service stations, hotels, and more.
Myth 4: Electric cars aren't actually that good for the environment
Electric cars do rely on power stations to generate their electricity which isn't necessarily that 'green'. However, as usual, myths about electric cars are wrong!  The impact that EVs have on the environment is significantly lower than petrol or diesel cars. Electric vehicles don't produce any emissions which contribute to harmful greenhouse gases and air pollutants in the environment. Getting an EV can help to reduce your carbon footprint and improve human health. Electric car drivers are also rewarded by Clean Air Zone schemes and don't have to pay a charge for driving through them. 
Myth 5: Electric car batteries can't be recycled
When batteries were first developed for EVs they had limited recycling options. Now, there are a number of ways electric car batteries can be recycled or reused. Not only can electric car batteries be recycled or reused in another vehicle, but they can also have multipurpose. For example, they can be used to store the energy that a solar panel can produce which helps to reduce your electricity costs at home! Currently, electric batteries are repurposed at EU processing centers, but the UK is working on a sustainable battery chain of its own.
Myth 6: Electric cars take too long to charge
A popular electric car finance myth is the long charging times. Charging times do vary between make and model and also which type of charging you are using. You can fill your petrol or diesel car in a matter of minutes and it's a common myth that charging an EV takes hours on end. However, a quick 30-minute charge at a rapid station can charge your car for up to 12 hours! The Tesla Model 3 was the 2nd best-selling car of 2021, and it can charge at a rate of 15 miles per minute!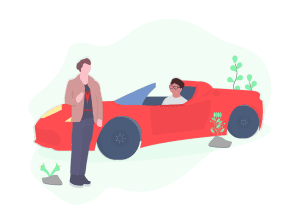 Myth 7: Electric cars are dangerous and too quiet
Myths about electric cars such as the risk they pose to pedestrians have prompted action to be taken. One of the biggest selling points of electric cars is the smooth and quiet ride that they provide to drivers. Electric cars are considerably quieter than petrol or diesel models because there are no engine sounds. However, many people are worried about the risks they pose to pedestrians and other road users when they are so quiet. However, from July 2021, all EVs must be fitted with a AVAS (Acoustic Vehicle Alert System) which emits a similar sound to an engine. It sounds whenever an EV is reversing or traveling at less than 18.6mph to help them to be identified by pedestrians.