Best car finance deals
Get the very best car finance deals UK Car Finance have to offer. Whether you're looking for HP car finance or PCP car finance deals when you buy your car, we've got you covered! We offer a range of online car finance deals to suit you! If you have any questions about any of our deals just drop us a message in the chat box, and we'll be delighted to help you.
Exclusive car finance deals
✅ 3 months free warranty
✅ Buy a car from any reputable FCA-approved dealership
✅ Pay nothing for up to 6 weeks
✅ Fixed interest rates
✅ Flexible repayment plan
✅ No deposit car finance options 
✅ Personal car finance experts
✅ Car finance from 12.9% flat rate of interest
✅ No guarantor options

Use our free car finance calculator
Our car finance calculator enables you to find out how much you could borrow before you even apply for finance!
Explore our car finance offers
Get 3 months free warranty on all cars
Our first used car finance offer is to receive a 3-month free warranty on any car (barring taxis) you finance through us. Although we don't directly sell cars, we understand that the car dealerships are seen as an extension of us. We check the reputation and quality check the cars of all the dealerships we work with to ensure you are in safe hands.
As we're confident that the dealerships we work with will look after you, we offer 3 months of free warranty so in the unlikely case there is a problem you can get it all sorted. Our 3 months free warranty car finance deal covers issues with the engine, timing belts, clutch, suspension, brake system, and much more! Find out more about the trusted dealers we work with. 
Pay nothing for up to 6 weeks
We think your money should go further that's why when you get your car finance deal through us, you can choose to delay your first payment for up to 6 weeks. This means you can pay for your insurance and tax without worrying about your first payment coming out too.
Your very own personal car finance expert
Our team here at UK Car Finance is always on hand to help you. We think you should be able to sit back and enjoy the car buying experience, that's why we have highly trained Specialist Automotive Finance certified car finance experts. They will be able to answer any questions you have, help match you to the most suitable finance deal and even source your dream car from a trusted dealership if you would like that help too.
Nothing is too much trouble, we genuinely care about your wants and needs and will make sure you drive away with a huge smile on your face. Don't take our word for it though, you can see the lovely comments from people just like you by reading our car finance reviews.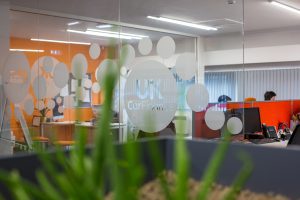 Fixed interest rates throughout
Car finance should be stress-free and most importantly you should have the peace of mind that you've got the most suitable deal! There's nothing worse than getting something on a fantastic rate to find a year later the interest is doubling, and you're forking out a lot more than you wanted.
Not with us, all of our UK Car Finance deals and offers come with fixed interest rates so what you agreed to pay on day one you will pay on the last day of your car finance deal. This means when the Bank of England increases interest rates, your car finance agreement and monthly payments won't be affected.
Flexible repayment plans available
Depending on the lender we can offer car finance on a weekly or monthly basis to suit you, so you can match your car finance payments up with the way you receive your income.
Buy a car from any reputable FCA approved dealership
One of the real downsides to getting your car finance sorted through a dealership is they tend to limit your car options to what they have available on their forecourt at the time. Meaning if you have your heart set on a certain car model that dealership may not have it, or you may go to a dealership that has that car but not necessarily the best car finance deal. That's why UK Car Finance is so good for you, we allow you to use your car finance offer at any reputable FCA-approved dealership, which there are hundreds of across the country. What's more, if you can't find the car you want our car buying team and cause try and source one for you. Getting a car is one of the biggest purchases you ever make, after all, you deserve to get what you want.

No upfront payment
Our customers love our range of no deposit car finance deals. Sometimes you don't want to put down a big deposit to get a car and would rather look for a no deposit option. The majority of our lenders offer this car finance deal, so you can drive away quickly without having to dip into your hard-earned savings.
Benefits of being a broker 
We are a car finance broker and not a lender which means we compare a wide range of finance deals and packages. We can help you sort low-rate car finance with affordable monthly payments from some of the most trusted lenders in the UK!
Find out more about how car finance works.
Trade in your old car
Part exchanging your current car has never been easier and we can help even if your car still has outstanding finance! We are one of the only car finance brokers who are able to help you part exchange your current car and get a new car on finance. Find out more about how part exchanging your car works.
See what car finance deal we can secure you.