In the UK, the base rate of interest has increased numerous times. 2022 has seen some of the highest interest increases for a long time and if you have a car on finance, a mortgage or are looking to take out a loan, you may be wondering how you will be affected. The Bank of England once again raised the interest rate (bank rate) on December 15th 2022 which makes borrowing higher for consumers, but what does it mean for car finance customers? The guide below looks at how higher interest rates in the UK will affect car finance and how you can help lower your interest rate offered.
Why are interest rates rising in the UK?
The Bank of England has had to increase interest rates in the UK because inflation is too high. They use higher interest rates to help bring inflation down and level out the market. Higher interest rates mean that consumers will face higher borrowing costs and this encourages people to spend less which helps to slow the rate of inflation.
Find out more about how the Bank of England uses higher interest rates to tackle inflation.
How do increased interest rates affect car finance?
Depending on what stage of the car finance process you are at, higher interest rates will affect you differently. Borrowing money at a time when inflation is higher can be a worry but with a little forward planning, you can help to get the best low-interest rate car finance deal for your circumstances.
What happens if UK interest rates rise and you already have a car on finance?
If you already have a car on finance and it is a fixed interest rate, your car finance agreement won't change. No matter whether the Bank of England increases or decreases the base rate, your monthly payments and interest rate offered at the start of the agreement won't be affected. Most car finance deals have a fixed rate of interest which means you entitles to the same rate throughout your agreement. If you do have a variable rate of interest, which is unlikely, your payments can be affected by the change in the base rate. If you're not sure, you can check with our car finance lender or refer back to your car finance contract.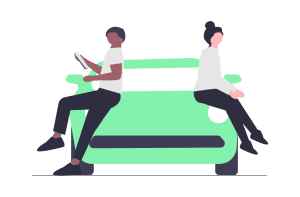 How does a higher base rate affect buying a car on finance? 
If you're looking to get a car on finance, you may be wondering how higher interest rates set by the Bank of England will affect you. Unfortunately, it can make borrowing more expensive. As a car finance broker, our UK lenders have had to set a higher interest rate as their lowest available but we still have access to some of the lowest rates in the UK. Instead of shopping around and applying with multiple lenders at once, we can save time and help you find the most suitable finance package for your circumstances.
Factors that affect car finance interest rates:
At UK Car Finance, we understand that sometimes you can't wait around for interest rates to drop before you get a car. For many drivers their car is their lifeline and whilst we can't control how the Bank of England choose to tackle inflation, there are a number of factors that affect how your car finance interest rate is calculated and it can be worth exploring the different factors and seeing how you could get yourself a lower car finance interest rate.
Check your credit without harming your credit score
1. Loan amount. When you apply for car finance, your loan amount will affect how much you need to pay. Obviously, a higher-value car will increase your car finance payments and also affect the interest that you need to pay on top. It can be worth comparing different car finance rates on a range of cars to see which can be the most cost-effective for your circumstances.
2. Credit Score. Your credit score is really important when it comes to getting a car on finance. Car finance lenders will want to know how you've handled credit in the past and your history of borrowing, They can do this by checking your credit report and usually car finance with good credit means you get the best interest rates offered. If your credit is a little on the low side, you could consider increasing your credit score before you start applying. 
Get a free finance quote
If you're looking to get a car on finance, let us help. We can find you the best car finance interest rate from some of the most trusted UK lenders and you have the freedom to get a car from any FCA-approved dealership! Apply today with no affect on your current credit score.