Used hybrid cars on finance
Getting a hybrid car on finance with UK Car Finance has never been easier! We have a range of finance lenders who can help you get a used hybrid car on finance. We think that hybrid cars are the best of both worlds, you get to benefit from some zero-emission driving with more mileage for longer journeys. If you're not yet ready to take the plunge into all electric car finance, a hybrid vehicle could be right for you. There are different types of hybrid cars and different financing options, so we've created the guide below to help you understand getting a used hybrid car on finance.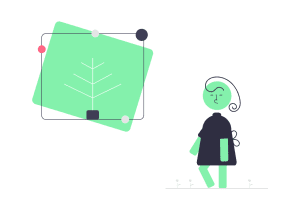 A hybrid car combines the power of a traditional combustion engine with an electric motor to power the vehicle. Usually, electric energy is stored in the battery and works with the energy from a petrol or diesel engine. The main advantage of having dual power sources is that they emit less CO2 and also consume less fuel than petrol or diesel alternatives. There are 3 types of hybrid cars available in the UK which include a full hybrid, mild hybrid and plug-in hybrid. 
Full hybrids (FHEV)
A full hybrid, also known as a parallel hybrid, can use the combustion engine and electric motor to power the car both simultaneously and independently. A full hybrid is the most common type of hybrid and can be the most fuel-efficient option for drivers. A full hybrid is able to operate in 3 different modes. Its electric mode can function solely on its own at low speeds of around 30mph, which can make it a great car for zero-emissions city driving! The series mode uses the electric motor to drive the wheels, but the combustion engine is used as an onboard generator. The parallel mode uses the combustion engine and electric motor at the same time to power the wheels.
Mild hybrids
A mild hybrid only offers a small amount of electric assistance to the combustion engine. Mild hybrids can't propel the vehicle on electric power alone but instead gives a 'boost' to the combustion engine. Mild hybrids don't need to be plugged in and get their energy from regenerative braking and power from the petrol or diesel engine. Mild hybrids can be suited to those who want a traditional driving experience but with a cleaner, more eco-friendly approach to driving. 
Plug-in Hybrids (PHEV)
A plug-in hybrid, as the name suggests, can be charged by plugging it into a charge point and can also be charged internally too. A plug-in hybrid is the halfway point between hybrid and fully electric vehicles. The batteries tend to be larger than full hybrids which means they can be charged and used for longer ranges. Many plug-in hybrid drivers can also charge their vehicle overnight and use the electric-only mode for around 30 miles a day and never have to use the petrol engine. 
There are a number of reasons why you should consider getting hybrid car finance. Hybrid cars have a whole range of benefits, and they don't have to break the bank! With affordable finance packages and low-rate APR available, we can help you get the used hybrid car you're after.
Hybrid cars consume less fuel and produce low emissions.
They are manufactured using lightweight materials and can use less energy which helps to conserve energy in the environment.
Many hybrids are exempt from ULEZ charges and compliant with Clean Air Zones thanks to their low emissions. 
The regenerative braking charges the battery and allows more time between fuelling your vehicle.
Can benefit from government buying incentives and can be exempt from congestion charges.
Improved mileage range in recent years and reduced range anxiety.
Find out more about why you should buy a hybrid car.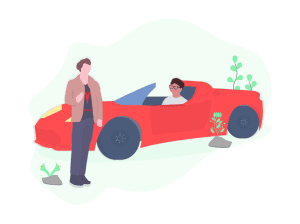 Best hybrid car finance deals
UK Car Finance are able to offer some of the best hybrid car finance deals. We mainly specialise in hire-purchase car finance but also have some PCP car finance deals available.
Hire-purchase (HP) is a type of car finance agreement that allows you to spread the cost of your hybrid car into affordable monthly payments. It's one of the most straightforward forms of financing. You can pay a deposit or benefit from the no deposit options we have and then make monthly payments with interest till the end of the agreed term. There are no mileage restrictions associated with hire-purchase and once the final payment has been made, you get to own the car!
Find out more about HP car finance.
Personal Contract Purchase (PCP) is a form of hire-purchase, but you don't spread the cost of the full car. Instead, you pay off the difference between what the car is worth at the start of the agreement and what it is expected to be worth at the end of your agreement. You can hand the car back to the dealer at the end of your agreement and no more payments need to be made. However, you will need to agree to stay within a mileage limit and also to keep the car in good condition. PCP car finance deals can be a good option for those who like more flexibility and also like to change their car more regularly.
Find out more about PCP finance deals.
How does hybrid car finance work?
Getting a used hybrid car on finance doesn't have to be confusing! We make hybrid car finance as easy as 1, 2, 3…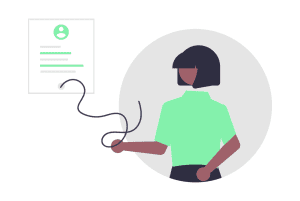 1. Apply online with no effect on your current credit score. Your UK Car Finance account manager will then match you with the most suitable lender from a wide range of reputable finance lenders.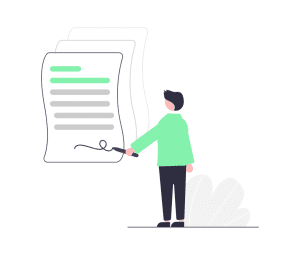 2. We help you source the used hybrid car you want and liaise with your chosen trusted dealership on your behalf. We even do all the leg work for you and complete the relevant paperwork.
3. Once you're happy with the deal and your chosen car, you can drive away happy and enjoy your new hybrid car with an affordable finance package!
Why choose UK Car Finance for hybrid car finance deals?
UK Car Finance is a reputable UK based broker who is verified by the Financial Conduct Authority. We have been providing customers with finance since 2015 and have built long-lasting relationships with many trusted finance lenders. This enables us to offer a range of finance packages to suit different customers and their individual circumstances.
UK Car Finance can exclusively offer you:
Low-rate car finance packages
No deposit and flexible payment options
Fixed interest rates
Fixed monthly payments
Freedom to get the hybrid car you want
Dedicated finance expert
No harm to your credit score
Used hybrid cars 2022 — our top picks.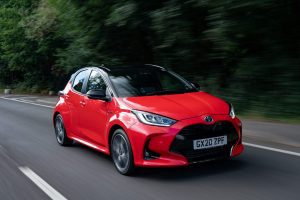 Toyota Yaris Hybrid

Used price: £7,000 — £19,000
VW Golf GTE
Used price: £13,500 — £24,000
Range Rover P400e
Used price: £80,000+