If you're thinking about buying a hybrid or electric car, it may be hard to know which is best for you! Many drivers see hybrid cars as the stepping stone before going fully electric. This is because a hybrid car is one that uses both an electric motor and a petrol and diesel engine. If you're not yet ready to rely on electric power alone and buy an EV, there is still a combustion engine present! Our blog below aims to look at why you should buy a hybrid car and how they can fit in with your lifestyle!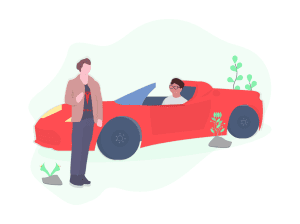 A hybrid car is one that utilises two means of propulsion to power the vehicle. Usually, a petrol (or diesel) engine is present and a small electric motor is also used. Depending on the type of hybrid car you choose, the electric motor can either be used independently or simultaneously. The electric motor is powered by electric batteries and depending on which hybrid you get, the batteries can either be recharged through regenerative braking or the cheapest way to charge an EV tends to be by plugging the car into a power source at home. 
What type of hybrid car should you buy? 
Typically, in the UK there are 3 main types of hybrid cars to choose from. Each is similar but when comparing electric ranges, you may be suited to one type over others. Full, mild and hybrid cars all use both a combustion engine and an electric motor but some have the ability to use the electric range on their own and others use the power to simply assist the engine instead. 
Check out our blog on the different types of hybrid cars you can buy for more information. 
5 reasons why you should buy a hybrid car:
1. Better for the environment
One of the main reasons, why drivers may consider an eco-friendly car, is the less harmful impact they have on the environment. Hybrid cars can be classified as eco-friendly because some of them can be powered on electricity alone and if not, they can also use less fuel and release fewer amount of emissions into the environment. CO2 from combustion engines speed up the rate of climate change and global warming and by adopting a hybrid into your lifestyle you can improve air quality and lower your carbon footprint. Many hybrid cars also comply with ULEZ and CAZ standards so you don't have to pay congestion charges. 
2. Lower fuel consumption
For many drivers, knowing how to use less fuel is a priority and by getting a hybrid car, you could spend less on fuel. Hybrid cars such as plug-in hybrids tend to have a larger battery which means they can run on just electric power. By opting for a hybrid car that can travel within your daily range each day, you could benefit from zero-emission driving and only top up your fuel tank when you go on longer journeys! A full and mild hybrid can recharge their batteries through regenerative braking which is a process where wasted energy is instead used to generate electricity, making hybrid cars much more efficient! 
The term 'range anxiety' refers to the worry that EV car owners have when they think their electric range will run out before they reach their destination or the nearest charging point. Hybrid cars can use their petrol or diesel engine as a backup if the eletric range of your car is low. When you're driving a long commute or are off on a daily road trip, it can be easier to refuel your car in a matter of minutes rather than waiting for the electric battery to be recharged. 
4. Huge choice of hybrid cars
When it comes to choosing the best hybrid cars, you sharp find that there is so much choice! Hybrid cars have been on the market for a number of years now and their popularity has grown in recent years too. This also means there's been an emergence of car finance deals for used hybrids as well as brand-new cars too! With the petrol and diesel ban coming in 2020, more manufactures have added fully electric and hybrid cars to their line-up as standard now and a reduced number of petrol and diesel cars are currently being produced already.
5. Hybrid cars hold their value
With hybrid cars becoming more popular, this means that there's more demand. When the demand for something is higher, it means that it holds its value better too. This means when you invest in a hybrid or electric car, you aren't as likely to lose out as much when it comes to selling your vehicle on. When it comes to car financing, this means that the value helps to keep the cost of ownership down and also gives it a higher trade in value when your contract comes to an end. 
Get a free quote
Looking to get a hybrid car with low interest? Apply online today to get a free, no-obligation car finance quote and get the hybrid car you want from any reputable dealership in the UK!