More people than ever are choosing to buy an electric car. There are so many benefits of owning an EV and how they fit into your lifestyle. With the petrol and diesel ban coming into play in 2030, it may have spurred more people to buy an electric car in the UK. The petrol and diesel ban sees the production and sale of new petrol and diesel vehicles be stopped to help tackle the rate of climate change. After this point, if you want to buy a new car, you will have to buy either an electric or get a hybrid car. hybrid. So, with this in mind, should you buy an electric car now or wait? Our guide below has been designed to help you determine whether an electric car will fit into your lifestyle and a few points to consider before you buy an electric car.
How do electric cars work?
Electric cars don't use a traditional combustion engine and instead are replaced by an electric motor. Rechargeable batteries power the electric motor, these batteries can be charged by plugging your vehicle into a designated charge point or at home through the mains. There's no tailpipe associated with electric cars, so no emissions are released into the environment. This makes electric cars a great option if you're looking for low-emission cars that will help to reduce global warming. Let's take a look at the benefits of owning an electric car below. 
Why are electric cars good?
There are a number of ways that buying an electric car UK can benefit your life. Not only are electric cars good for the environment but they can also have lower running costs too!
✅ Better for the environment. Electric cars don't produce harmful emissions into the environment which can contribute to the rate of global warming. If all drivers adopted an electric lifestyle, the rate of climate change would be significantly reduced. Cleaner air also contributes to better human and environmental health too, making the world a better place to live for everyone!
✅ Lower running costs. Electric cars can benefit from lower running costs when compared to owning a petrol or diesel equivalent. It's much cheaper to recharge your electric car than it is to fuel your car with petrol or diesel. Electric cars also have fewer moving parts so servicing and maintenance costs can be lower too, so for many people buying an electric car is a no-brainer! Electric cars are also exempt from charges when driving in Ultra Low Emission Zones and Clean Air Zones too.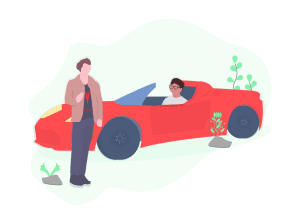 ✅ Smoother, more comfortable drive. Electric cars can promote a smoother drive because the electric power can be transferred straight to the wheels. This makes acceleration faster and less 'clunky'. EVs are extremely quiet too which makes driving one a more peaceful experience.
✅ More availability on the market. Electric cars have been on the market for a number of years now and their popularity has grown rapidly. There is now more availability than ever to get a brand-new electric car and more options to finance a used electric car, depending on your budget!
✅ Government grants available. When you buy an electric car in the UK, you can benefit from a number of cost-effective government grants. The plug-in car grant enables drivers to get money off the purchase price of a brand-new EV. When it comes to recharging your EV, you could have a charge point installed at home at part of the cost can be subsidised by the government. There is also a Workplace Charging Scheme which helps businesses with the cost of having a charger installed.
✅ More charging points installed. A common electric car myth is that there aren't many electric car charging points across the UK. However, this is not true. In recent years, EV charging points have more than doubled across the UK and as of 2022, there are over 28,000 available chargers.
Are electric cars worth it?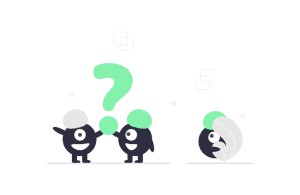 If you've had a look over our benefits of buying an electric car above, you may be wondering f there are even any downsides to owning an EV. Electric cars are a great way to help reduce the rate of climate change and your own personal carbon footprint but for some people, electric cars may not be the best suited to their lifestyle.
❌ Range anxiety. Range anxiety is a common term used to describe the worry that an EV will run out of charge before it reaches its destination. If you frequently travel many miles a day, you may be wondering which electric cars have the best range and if it could be suited to your driving style. Read our blog on electric car range comparison to find out more.
❌ High purchase price. Buying a brand-new electric car may be out of reach for many drivers. Fully electric cars tend to use more sophisticated technology which can bump up the cost. However, many EV owners say that the lower running costs help to offset the initial purchase price.
❌ Charging is slower than refuelling. Many EV owners opt to have a charge point installed in their homes for convenience. However, charging at home is very slow and can take a number of hours to complete. There are rapid chargers available to use but they can take around 30 mins to charge to 80%.
Best electric cars 2022 UK
If you've decided that your next car will be an electric one, check out some of our best electric cars below: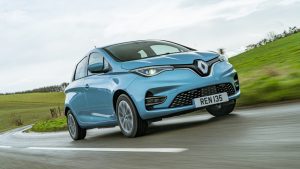 Renault Zoe
Cheapest  5-seater electric car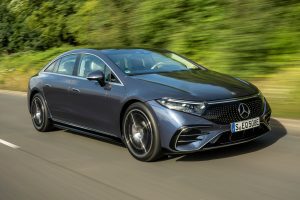 Mercedes EQS
Electric car with the longest range.
Vauxhall Mokka-e
Best family-friendly electric car
Should you buy a hybrid car or an electric car?
If you're not sure whether your lifestyle is ready for a fully electric vehicle, you may be considering getting a hybrid car to help bridge the gap. Hybrid vehicles are eco-friendly cars or vans which are better for the environment than traditional combustion engine vehicles. Hybrid cars work by combing a petrol or diesel engine with an electric motor. The electric motor tends to be quite small compared to fully electric and can be used to either boost the combustion engine or work independently. Hybrid cars can be a good choice for those who want to be more eco-friendly but also want to benefit from a lower purchase price.
Find out more about getting a hybrid car on finance. 
Ready to go electric?
If you're looking to adopt an eco-friendlier lifestyle today, we can help you get an affordable electric car finance package!