Owning a car can be confusing and if something goes wrong you may not know what to do. We also all like to save a little money here and there so why not learn how to keep on top of basic car maintenance at home? We've already brought you guides on how to change a tyre, change your car oil and change a car battery! This time, we're teaching you how to change your windscreen wiper blades in just a few easy steps!
Your wiper blades are made of rubber which will naturally wear out after a while. Depending on how often you use them, the weather conditions can affect the longevity of your windscreen wipers. Usually, windscreen wipers should last between 6-12 months. Not only can worn windscreen wipers be an annoyance but can also damage your windscreen.
Signs your windscreen wipers need replacing:
Streaking across windscreen
If your wiper blades leave streak marks across your windscreen when applied, they more than likely need replacing. Your wipers could also be streaking due to not being fitted properly or debris on the blades such as dirt or leaves.
Screeching or squeaking sounds
Your wipes may have worn away and create a squeaking sound or they may not be fitted properly. Gently lift the wiper arm and give it a little shake. If the blades move around too loosely, they may just need tightening rather than replacing. Blades with no movement may need replacing or loosening.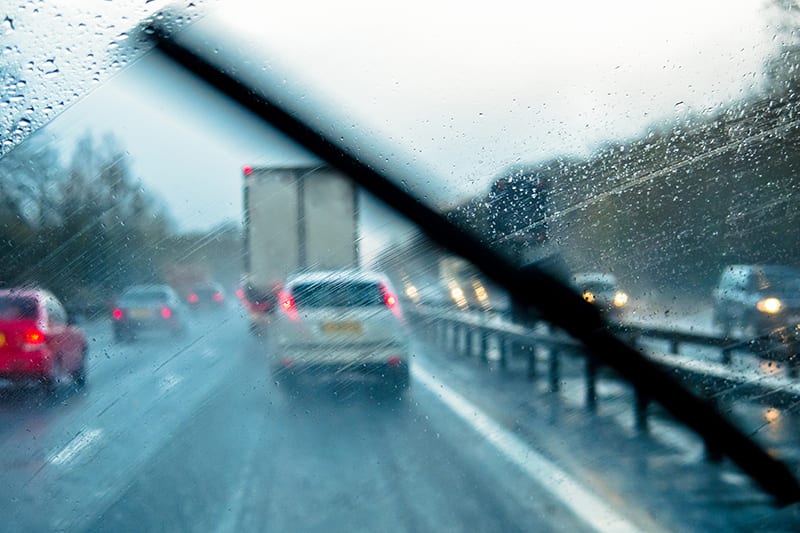 Irregular movement
Wiper blades that are in good condition will move smoothly across the windscreen. When your windscreen wipers need replacing, the blades will usually judder during operation.
Ragged or peeling blades
You can tell if your blades need replacing just by looking at them. Gently lift the arms of the wiper away from the windscreen and check for any general wear and tear of your blades.
How do I change my windscreen wipers?
1. First you will need to purchase new windscreen wiper blades. You can usually find your windscreen wiper size that is needed in your handbook. You can use online tools where you can enter your reg or vehicle make and model to find out which size you need.
2. Before fitting, turn off the car engine and remove the key. This stops the possibility of the windscreen wiper arm moving once the blade is removed.
3. Unclip the old wiper blade, by either sliding the blade out of the clip system or pulling it gently out of the arm. Hold the arm in place as it can snap back and cause damage to the windscreen.
4. Clip the new wiper onto the arm. A clicking noise or snap feeling means that the new wiper is secure. You can give the wiper a little wiggle to make sure it is in place.
5. Gently lower the arm and new blade onto the windscreen. Check that the arm and wiper is straight and sits on the glass.
6. Repeat the process for any other new wiper blades you need to fit.
How can I make my windscreen wipers last longer?
As mentioned, the longevity of your windscreen wipers can depend on the conditions and usage. However, there are some easy ways you can extend the lifespan of your windscreen wipers.
Lift your wipers when it snows.
This may sound counterproductive as your windscreen wipers are used to clear snow from your windscreen. The water from snow on the windscreen can cover your wipers and cause them to freeze in position. Meaning that some windscreen wipers may not activate properly or cause the rubber on the blade to tear.
Clean your wiper blades with washer fluid.
Your windscreen wiper can collect a lot of debris and dirt which can cling to the rubber edge. This can cause damage to the wiper and also the windscreen. It is recommended that you soak a clean cloth in washer fluid and wipe your blades clean regularly.
Park your car in the shade.
This isn't possible all the time depending on where you park frequently. Parking your car in the shade is recommended for the overall health of your car, not just the wiper blades. Especially in the summer the hot weather can dry your wiper blades out. As rubber ages it can become harder and more brittle which can be damaging your windscreen over time.
Don't use your wipers when the windscreen is dry.
Wipers were designed to be used in the rain and snow to clear liquid from your windscreen or they can be used with washer fluid to clean your windscreen. Using your windscreen wipers when the windscreen is dry causes the wipers to wear quicker and can also cause debris to scratch the windscreen.