Any scratch on your car can affect its appearance; if it isn't your fault, it can be annoying! However, whether it was your own fault or someone else's, you may be wondering how to fix scratches on your car at home. Depending on the size and type of scratch you want to remove, your options may be limited. In many cases, it can be best to have an expert fix the scratch at your local garage. But, there can be ways to remove a scratch from your car yourself in just a few easy steps! 
Can I repair a scratch on my car myself? 
How to repair a scratch on a car depends on how deep the scratch is. If it's just a small scrape or chip in the paintwork, there can be a number of options to fix the scratch at home. Anything deeper may require the help of a verified and trusted mechanic. Your vehicle's paintwork is made up of three different layers on top of the metal body; a clear coat, a base coat and a primer. If the scratch has affected all three, it can be harder to remove scratches on a car. In this article, we look at how to remove scratches from your car depending on the type of scratch.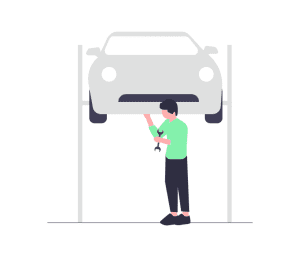 How to remove light scratches from your car:
Light scrapes or scratches on your vehicle can be the easiest to fix! First, you should assess how deep the scratch is by running your finger over it. If your fingers don't catch or the paintwork feels smooth, you may have only scraped the top layer of paint. You can fix these types of scratches by using a scratch removal pen or toothpaste! 
Remove a scratch on your car with toothpaste. 
Generally, any brand of toothpaste will do the job but whitening toothpaste can also work best! Toothpaste can help to remove a scratch from your car because it's a mild abrasive and can be used to gently buff the scratch away.
All you will need to get started is some water, toothpaste and a soft cloth or an old T-shirt works well too!
Pop a small amount of toothpaste onto your cloth and start rubbing it into the scratch in a circular motion and with a light amount of pressure.
Once you've buffed the area, fill the scratch with toothpaste.
Grab a new, clean piece of cloth and remove any excess toothpaste.
Repeat the process if you need to. If nothing happens, it may indicate the scratch is deeper than you first thought and needs more work.
Using a car scratch repair pen. 
If the toothpaste didn't do the job, you could buy a dedicated car scratch remover kit. These usually come in the form of a paint touch-up pen or a removal kit. They can be purchased for as little as £10-£20 and can make it easy to remove a scratch from a car at home. Scratch remover kits or pens should only be used on small surfaces and aren't to be used on the whole vehicle. 
Clean the affected area with water and make sure it's completely dry before attempting to use a scratch removal kit.
Follow the instructions for the product you've bought. Usually, scratch removal pens are easy to use and will match any paintwork.
Simply, apply the pen to the affected area and repeat with multiple coats if needs be. 
How to remove a car scratch with WD-40
It's a common myth that WD40 can be used to remove scratches from a car. Whilst it can be an effective way to reduce the visibility of scratches, it isn't a long-term solution. To remove scratches from your paintwork using WD-40, follow the simple steps below. 
Spray the affected area with a thin layer of WD-40.
Use a soft cloth to buff the area and wipe the WD-40 away. 
Repeat if necessary. 
How to remove a deep scratch from your car
If our home remedies for fixing a car scratch aren't doing the job, sometimes it's best to call in the professionals. Many drivers may not feel comfortable buffing or polishing their cars themselves as it can lead to further damage. If you don't own the car you are driving, for example, if the vehicle is on hire purchase or PCP finance, it's not the best idea to mess with the bodywork as it can affect what happens at the end of your finance deal. 
Its time to call the experts.
In some cases, when you want to fix a scratch on your car, you may have to admit defeat. While fixing a car scratch at home can be possible, if the scratch is too deep, it can be best to leave it to the professionals. We recommend finding a trusted garage or mechanic to help remove the scratch for you.
As a guide, you should check out the Check a Trade website to find out how much it costs to repair a car scratch in the UK?
Explore our 'How to…' guides below!
How to change your windscreen wipers
How to check tyre pressure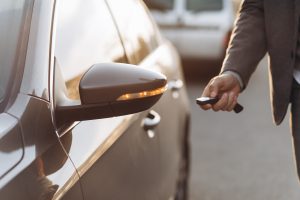 How to replace car key battery