Adopting a furry friend is serious business and it's important that when on the road, your pet is comfortable and well-catered for. As a nation of dog lovers, more people than ever are looking for cars that suit dogs! That is why we have compiled a list of the very best cars for dog owners. We've looked at price, space and pet perks to decide our winners but not forgetting the requirements of the owner. We're sure you're going to love them just as much as your canine friend will. 
Top 8 best cars for dog owners 2022: 
Skoda Superb
Land Rover Discovery Sport SUV
Nissan X-Trail
Dacia Duster
Mercedes Benz E-Class Estate
Volkswagen T-Cross
Fiat Panda
Nissan Leaf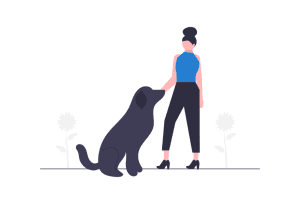 1. Skoda Superb 
There are many Skoda models that could have made the list of best cars for dogs but we've decided to focus on the Skoda Superb as our favourite. One of the most spacious cars around, the Skoda Superb also features on our list of the best cars for towing. Your pooch will appreciate the low-load lip so they can jump in effortlessly and chill out in the large boot. The boot space will keep even the biggest of dogs happy with an impressive 660-litre space. The Skoda Superb provides a smooth driving experience to help reduce your dog becoming ill or constantly bumping their heads on the roof. The Superb also comes with clever features such as an ice scraper in the fuel flap and an umbrella in the driver's door that come in handy on dog walks in unpredictable British weather.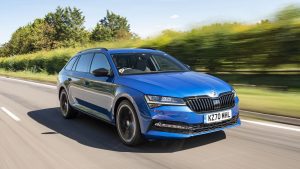 2. Land Rover Discovery Sport SUV 
It's no surprise that the Land Rover Discovery Sport SUV features on our list of the best cars for dog owners due to its size and capability. The Discovery Sport SUV claims a boot size of a whopping 981 litres meaning you have plenty of space for 1,2 or even 3 dogs in the back! One of the best things about the Land Rover Discovery Sport SUV is the exclusive pet pack that you can buy to help keep your pets safe, comfortable and keep your car clean. There are different packs to choose from but some accessories include a spill-resistant water bowl, loadspace rubber mat, foldable pet carrier and even a pet access ramp!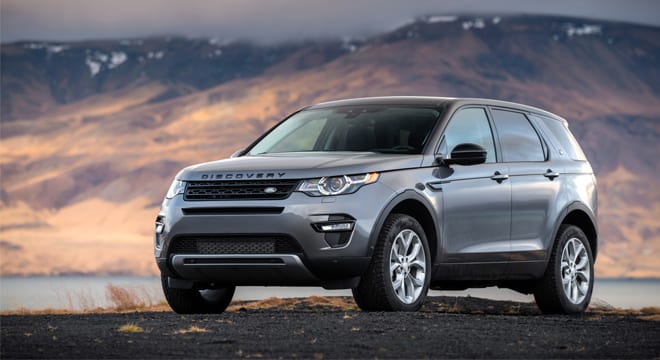 3. Nissan X-Trail 
One of the best cars for dog owners is the Nissan X-Trail. Nissan created a special Nissan X-Trail 4Dogs which is a crossover SUV concept for families and their dog(s). If you get the 'Paw pack' which as a canine lover, we're sure you're considering, your dog can be treated to a ramp to help them stroll into the boot where they'll find a dog bed and a spill-resistant water bowl. There's also a 360-degree pull-out shower for muddy walks and even a dog drier for wet fur! You can store the leads and toys in a hanging storage tack too. This X-Trail model has been truly designed with doggies in mind!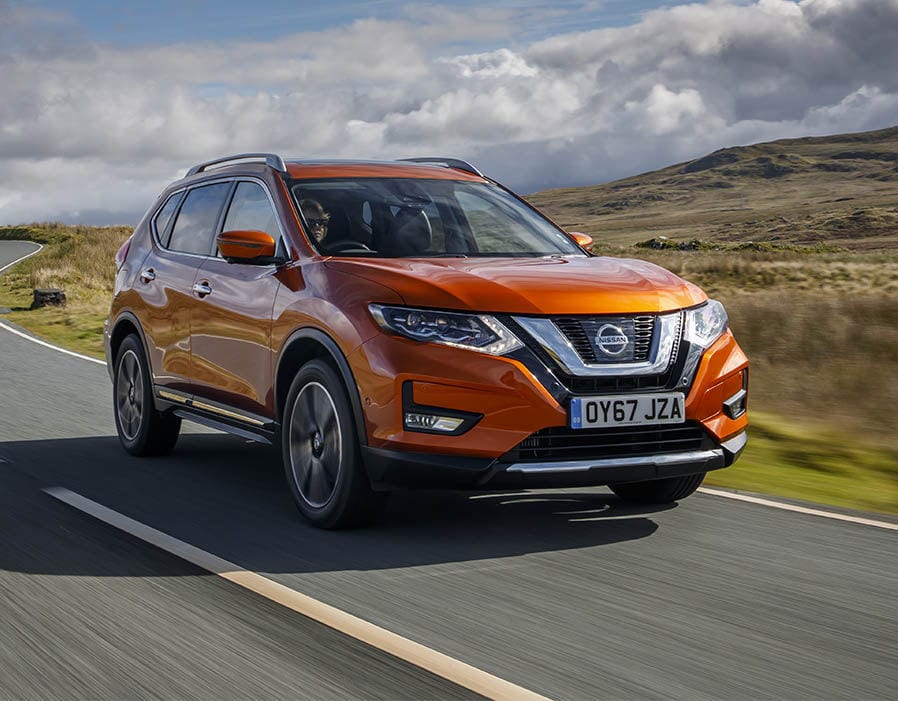 4. Dacia Duster
The Dacia Duster is a great choice for any dog owner looking for a car to suit their furry friend. Not only is the Dacia fit enough for the family and your pet but it's also very cost-effective. The Dacia Duster is one of the cheapest brand-new cars to buy in the UK and starts from under £15k. With the full family on board, the boot space provides around 445 litres but converts to a whopping 1623 with the rear seats folded. The interior of the Duster isn't the most exciting we must admit but if you're not precious about your car getting dirty, you probably won't mind anyway! It's also featured as one of our best cars for family camping trips too!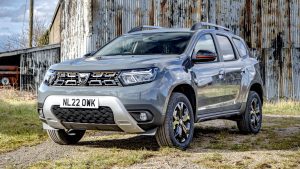 5. Mercedes Benz E-Class Estate
If you're looking for something a little more upmarket for you and your furry friend, the Mercedes Benz E-Class could be the perfect car for you both. We didn't want to include anything too pricey on the list as your car will more than likely not be kept in pristine condition but we couldn't overlook the E-Class Estate. The Mercedes Benz E-Class is one of the smoothest cars to drive so both passengers and driver will be kept happy. when travelling with our dog, there's an optional folding sill protective mat and also an automatic boot closing when your dog. If you're also looking to transport your golf clubs, this car also features on our list of the best cars for golf clubs too!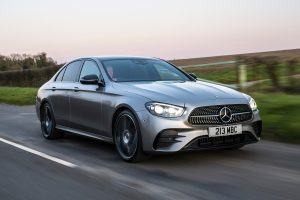 6. Volkswagen T-Cross
When it comes to the best small cars for dog owners, there are plenty of cars to choose from but went for the Volkswagen T-Cross! The Volkswagen T-Cross is a sleek-looking SUV that doesn't scrimp on interior space. not only does the T-Cross look good but it's also one of the smoothest-riding cars in its class. There are a number of accessories you can buy to help make your pet's journey a little smoother such as the resilient custom dog guard.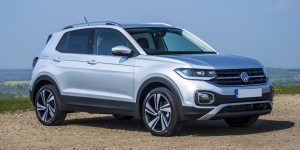 7. Fiat Panda
Alright, we accept the Fiat Panda isn't the most exciting car about but if your main buying drive is the best car for your dog then it's a good contender. Most of the best cars for dog owners centre around large boot space and a low lip. However not every dog owner needs masses to amount of space. This is where the Fiat Panda comes in. if you have a small to a midsize furry friend, the Panda is small, nimble and affordable and can suit a whole range of different drivers. The adjustable rear ben seat is super easy to convert and makes it handy if you have no kids to and want more room for your dog.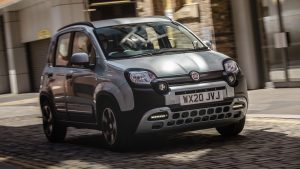 8. Nissan Leaf
Got a dog? Need an eco-friendly car? Look no further! The Nissan Leaf is one of the best electric cars to buy in the UK and it also makes a great car for dog owners. More people than ever are choosing to get an electric car and it's easy to see why. With more environmental benefits and lower fuel consumption, the Nissan Leaf has led the electric revolution since 2010! The latest version of the Nissan leaf is also one of the best. The recent facelift has brought it into the 21st century and the interior space has been improved. The boot height measurement is one of the best on our list and can comfortably fit even the largest of dogs.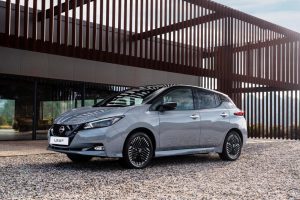 Finance a car that's perfect for your pet!
We can help you get a low-rate car finance deal on one of the best cars for your dog! With plenty of cars to choose from, you can get the one that suits you with affordable monthly payments