When you're a driver it can pay to be un-prepared on family camping trips or on day-to-day journies. Whether you're number one concern is keeping kids safe in the car or keeping your phone fully charge for emergencies, having a roadside kit can be a good idea. A car emergency kit can help you save time on the road, keep you safe and also prepare you for any medical emergencies. So, with this in mind, how do you know what to put in an emergency car kit?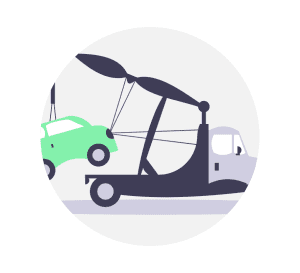 What is a car emergency kit? 
An emergency car kit is one that you can either put together yourself or buy online to help keep you safe on the road. It's one of the things that you should always have but hope you will not need to use it. Emergency roadside kits are often confused with first aid kits and whilst a first aid kit should be included there are also other important things you should also include. There are many blogs which can advise the best things to include in your emergency roadside kit. So, to make things a little easier, we've compiled the most important pieces of equipment that you should keep in an emergency kit for your car.
What are the benefits of having an emergency kit for your car? 
There are many benefits to having an emergency road kit in your car. Whilst it can be true that excess weight can use more fuel, it's worth keeping the emergency kit in your vehicle at all times as you never know when it might come in handy. Overall, a car emergency kit is used to keep you safe in the event of a breakdown or a medical incident. Some road accidents can't be avoided and will be serious but it always pays to be prepared in the event of an incident. Having a pre-prepared emergency kit can also give you added peace of mind with an extra layer of protection behind you. 
Car emergency kit list UK:
Check out the top 10 things to include in a car emergency kit ⤵️
1. First Aid Kit
You'll not be surprised that the first thing you should include in your car emergency kit is a suitable frost aid kit. You can either buy these as a pre-made pack or make one up yourself. If you're going down the homemade route, you should include things such as wash-proof plasters, bandages, blunt-ended scissors, medical-grade plastic gloves and sterile cleaning wipes.
2. Ice scraper and de-icer
When driving in snow and ice, it's best to be prepared and clearing your windscreen before you set off is really important. When the bad weather hits, it's a good idea to have a de-icer and an ice scraper handy in your car. You should pull away until all windows and your windscreen are clear and failing to do so can even land you with a fine from the police.
3. Blanket and/or warm clothing
If you've been involved in a car accident or your car has broken down,  you should try to get your car into a safe place if possible, put your hazards on and get out of the car when it is safe to do so. To help keep yourself warm whilst waiting for recovery or emergency services, it can be a good idea to have a blanket or warm clothing handy.
4. Phone charger
For many people, their smartphone is their lifeline, They can come in handy when driving and can be used for maps, navigation and even as a dashcam! In an emergency situation, your mobile phone can be used to call the emergency services, help others identify you if you are involved in a crash or help you to find your way when you're lost. Thats why it's a good idea to keep a phone charge in your vehicle as part of your emergency roadside kit.
6. Map
No matter what century we're in, a map should always be included in your emergency car safety kit. Many drivers use their phones for navigation but if you don't have a charger or are in an area which has no reception, a map could be a lifesaver.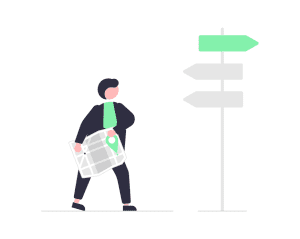 6. Jump leads
Jump leads are used when your car won't start and they can give life to your car battery if it's dead. This can happen to older car batteries or even new ones that use a lot of special features such as heated seats or an infotainment screen. An empty battery can happen at any time and it's best to be prepared. If the jump leads don't work, you may need to change your car battery instead.
7. Torch
Most smartphones nowadays have a torch function which you can use if needs be. However, if you don't have your phone on you or it's running out of battery, it can be a good idea to have a handheld torch handy too. If it's a battery-powered torch, also remember to have spare batteries in your emergency car kit, just incase!
8. Puncture repair kit
Learning how to change a tyre is a really important skill to know but in many cases, this can be a last resort. You can save time and money by having a puncture repair kit in your car at all times. You can use the puncture repair kit as a quick fix whilst on the road until you can get to a garage to repair it properly.
9. Water and snacks
No matter how long your journey will take, you should also have water and snacks in your roadside emergency kit. If you're off on a road trip or popping to the shops, it's always best to be prepared. You should make sure you have a few bottles of water handy and any snacks that can be ready to eat and don't go off quickly.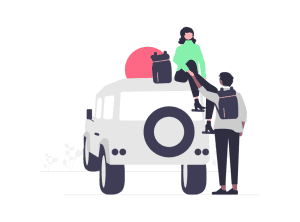 10. High-visibility clothing
If you're stuck on the side of the road, you may not be visible to other drivers, especially at night. Keep yourself safe by having some form of high-visibility clothing or equipment as part of your emergency car kit. A hazard triangle is also good to have and should be placed a few metres in front of a broken-down vehicle to warn oncoming traffic of the hazard.