When you're a parent, all you want is for your kids to be happy and safe but how do you ensure they are not at risk when in the car? Whether you're planning a summer road trip or want to know how to keep them safe when commuting, we've got you covered. Our guide below explores how you can reduce the risk of accidents and distracted driving and ensure you're not breaking any driving laws.
Travelling with children in the car: what's the law?
Child car seats. Under UK law, all children must use a child car seat until they are 12 years old or 4ft 5 inches tall, whichever comes first. To avoid putting your child's life at risk or breaking the law, you should only buy a child car seat that is EU approved and is suitable for the child's weight, size and height. Check out our list of the best car seats to keep your baby safe.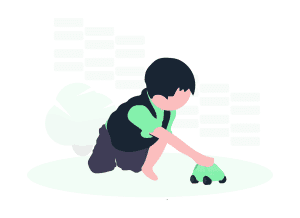 Smoking in cars. In the UK, it is illegal to smoke in a car with anyone under 18 years old. This law was established in 2015 to help reduce the harmful effects of second-hand smoking. 
Top tips to keep children safe in the car:
There are a number of ways in which you can reduce the likelihood of accidents and help to keep your child happy and safe whilst on the road with you.
As the driver of a car, you have legal responsibility over any passengers in your car. In the UK, it is a legal requirement that any passenger over 14 years old is properly secured in the vehicle by a seatbelt. If you fail to comply, the police can impose an on-the-spot fine of £30 and up to £500 penalty charge if it goes to court. Not only is not wearing a seatbelt against the law but it also increases your risk of injury if an accident was to occur. 
2.    Keep your car in good condition
Even if you drive one of the top 10 safest cars, keeping your car in good overall health can help to reduce the risk of accidents. You can help to extend the life of your car by keeping on top of regular services and MOTs. You could also consider driving smoothly, changing car filters regularly, reducing excess weight and learning how to change your car oil at home. 
3.    Avoid eating inside the car
This goes for both the driver and your passengers. When eating whilst driving, your attention can be diverted away from the road. When travelling with children in the car, you should try to have a snack before you set off on your journey to reduce the risk of them accidentally choking. You could try to keep them entertained with toys rather than a snack.
Most modern cars with 5 doors come with a child lock feature as standard. Child locks are a great way to keep your child safe whilst on the road. Child locks mean that your children can't open the doors from the inside both when travelling or when stationary. If you're unsure how to use this feature or if your car has a child lock, you can refer to your owner's manual. 
5.    Adjust your mirrors
It can be hard to keep one eye on the road and one eye on what your kids are doing in the back. You should try to position your mirrors so you have a good view of the road but can also make sure your child is safe. If your mirrors can't do this, you can buy additional accessories to increase your visibility.
In the summer weather, cars can get very hot. Protect your kids and make them comfortable by using sun shades over the windows in the back to reduce the amount of light. This means you can protect your kids from the heat and glare, and you can focus on the driving ahead. 
Most modern vehicles now come with electric windows which can be extremely dangerous for children. It can be a good idea to lock the power windows to prevent children from getting trapped or injured. If you're not sure how to lock the power windows, you can refer to your owner's manual. 
8.    Prepare for long journeys
If you're off on a road trip and want to ensure your full family is safe, it's best to be prepared before you set off. You should pack an emergency roadside kit in the event that you have an accident, brush up on how to change a tyre, pack snacks and water, make sure your phone is fully charged, and have a first aid kit to hand and any baby essentials.
9.    Set your own rules for the road
If your children are old enough to understand the rules of the road, it's a good idea to set your own requirements when driving. Not only does it create a better driving environment for yourself but also teaches children responsibility when travelling in a vehicle. You should teach your children to be responsible passengers, not make too much noise and prevent them from distracting the driver. 
10.     Never leave a child unattended
It may seem pretty obvious, but you should never leave a child in a car on their own. Even if you are nipping out of the vehicle for a moment, you should never leave them unattended. There are a number of risks associated with leaving children in cars alone that can happen in a matter of seconds.