For many people, the daily commute is a necessity that they don't enjoy. That's why it's important that you choose a car that will be fit for your purpose when it comes to your daily drive. With more people returning to the office in 2022 and no longer working from home, you may be in the market for getting a new car. The drive to work is usually a mundane one but your car doesn't have to be! We've compiled a list of the best cars for commuting in the UK and a few factors you should look out for in the best commuter cars.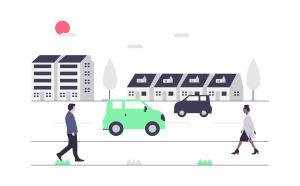 What to look for in the best commuter cars:
There are a few factors that will make your journey a smooth one, especially if you travel long distances. According to a recent study by the TUC, the daily commute is now almost an hour each way! With this in mind, we think you should take the following factors into consideration before getting a commuter car.
Efficiency
When it comes to long commutes, fuel efficiency is key! You don't want to be spending more than you need to on numerous trips to the fuel station if you don't need to. It's worth comparing the fuel efficiency of different makes and models before you commit to one. Some of the most fuel-efficient cars on our list include the Volkswagen Golf and Toyota Yaris. You can also consider lowering your fuel consumption by reducing any excess weight, driving in the highest gear possible, combining multiple journeys and keeping your car in good condition.
Running costs
Low running costs are important for any driver and especially when performing a long commute. Running costs are the day-to-day costs of using your cars such as petrol or diesel and servicing. Diesel cars tend to be more expensive than petrol, but you usually get more miles to the gallon. However, diesel may only be more cost-efficient for those drivers who travel high mileage per day. When your car is over 3 years old, it is a legal requirement to get a yearly MOT. It's not a legal recommendation to have your car serviced but it is highly recommended to keep your car in good condition and help reduce running costs.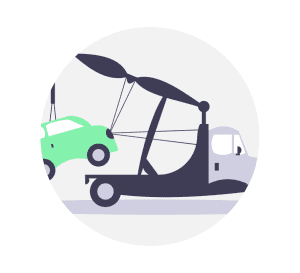 Comfort
For many drivers, even if they don't drive long journeys, comfort is one of the key factors in getting a new car. Drivers tend to rate the comfort of a car based on interior seats, a relaxing drive, and a smooth engine. Finding a car with all three can be tricky but our list below offers some of the most comfortable cars to drive for a long commute, including the Hyundai i30 and Mercedes-Benz C-Class. 
Best cars for long commutes UK:
Ford Focus ST
Hyundai i30
Nissan Qashqai
Vauxhall Insignia
Volkswagen Golf
Mercedes-Benz C-Class
Tesla Model 3
Toyota Yaris Hybrid
The Ford Focus ST is a family car that packs a punch. It's a five-door hatchback that has been a firm favourite with UK drivers for years and it's easy to see why. It's been trusted by UK drivers as a reliable and spacious choice for any commuter. It handles corners well and the suspension is reactive. The 2015 facelift has seen sport-style seats introduced and a much sharper drive. It's cheap to run and comfortable to drive and there is a choice of manual and automatic cars on offer. The Ford Focus 1.5L petrol engine ST has a potential of 64.2mpg and the diesel option has around 54.3mpg.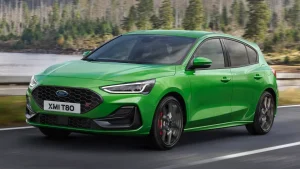 The Hyundai i30 is one of the best cars for long commutes! Not only does it offer a comfortable and easy-going driving experience, but it also makes light work of long-distance driving. The Hyundai i30 can easily meet the needs of family life and also day to day driving. It can be a cost-effective choice for many and can fit into a range of different budgets. The 1.6 diesel engine can be the best if you're looking for a good commuter car. It may not be as stylish as some of the other cars on our list, but the diesel engine can boast a whopping 70mpg! 
Not only is the Nissan Qashqai a great car for long commutes but it's also one of our top 10 safest cars too, making the Qashqai a great choice for a family SUV. The Qashqai is an all-rounder when it comes to long-distance driving, it's comfortable, spacious, and practical. It's surprisingly spritely for a car of its size and offers high mileage per gallon. The 1.3L dCi engine has one of the best mpg with a height of 54.3mpg. If you're looking for something a little eco-friendlier, there has been a new e-Power hybrid model introduced in 2022.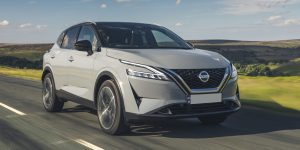 If you're looking for a commuter car that won't break the bank but offers high mpg, the Vauxhall Insignia could be the car for you. It's one of the only cars on our list where most models can perform an impressive mileage range, but we would recommend the 1.5 or 2.0-litre turbo diesel engine which can offer around 60.1mpg. You won't mind spending a while in the Insignia as the interior is spacious and functional. The suspension adapts well and adjusts to your driving style to promote a comfortable journey, especially on motorways. 
The Volkswagen Golf can be most associated with first-time drivers or city driving but it also handles amazingly well on motorways. The 1.6 TDI 105 SE can achieve 74.3mpg and can rival some of the best commuter cars on our list. The Volkswagen Golf has an impressive range of petrol, diesel, hybrid and all-electric cars too so there's plenty to choose from! The Golf has plenty of adjustments to be made to increase comfort such as seat, height, steering wheel positions and also lumbar support. Each model comes with a large 10-inch infotainment touchscreen that is highly mounted, so you dot have to get distracted while driving!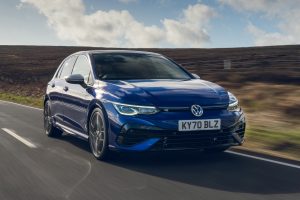 In general, saloon cars tend to be comfortable, but the Mercedes-Benz C-Class takes it to a whole new level. The Mercedes-Benz C-Class also features on our list of the best automatic cars UK too! The steering is really responsive, and you can guarantee your whole journey will be quiet and comfortable. In true Mercedes style, it has an impressive acceleration of 0 to 62mph in 6.9 seconds and the 220d 2-litre engine rewards you with up to 55.4 mpg.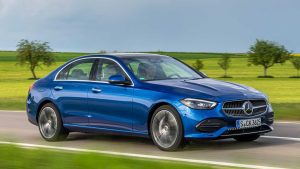 The Tesla Model 3 is the new kid on the block when it comes to commuter cars. At Uk Car Finance, we love the Model 3 and it's one of the best electric cars you can buy. The popularity of Tesla has boomed in recent years too. It is one of the more expensive cars on our list but if your budget can stretch to it, it's definitely worth the money! The technology used in Tesla cars is hard to beat and has set a high standard for cutting-edge features. The Model 3 is one of the most impressive electric cars on the market and also one of the best low-emission cars you can buy. If range anxiety is a concern for you, there's no need to worry with the Tesla Model 3 which boasts an excellent range of 374 miles.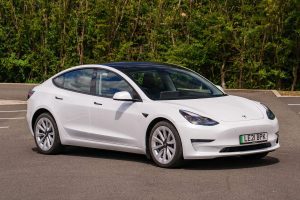 At UK Car Finance, we're big fans of the Toyota Yaris. It may not be the biggest or fastest car on the market but it's made it onto our list of best eco-friendly cars AND the best hybrid cars too! It may surprise you that we've included a Yaris in our list of best commuter cars, but it should not be overlooked! Not all drivers need a big, clunky SUV to get around and the Toyota Yaris Hybrid can keep up with both city and motorway traffic easily. As far as hybrid engines go, it's one of the most efficient and has affordably low running costs.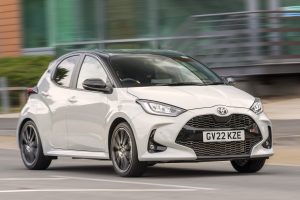 Get a free finance quote
If you like any of the cars on our list, we can help you finance them with low rates and affordable monthly payments!