If you've just passed your driving test or are in the market for your first car, we can help! Getting your first car is a really exciting time but it shouldn't be a decision you rush into. There are plenty of things to consider; from finding the cheapest car insurance premiums to how you'll pay for your next car. If you're looking to get car finance as a first-time driver, using an online car finance broker like us can be helpful. We can help you source the best car finance rates for your circumstances from a range of trusted lenders! You can then get the car you want from a trusted dealer across the UK!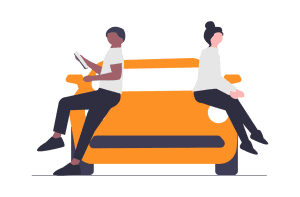 Best first cars for beginners 2022:
Vauxhall Corsa
Hyundai i10
Toyota Yaris Hybrid
Volkswagen up!
Ford Fiesta
Renault Clio
SEAT Ibiza
Volkswagen Polo
Dacia Sandero
Fiat 500e
1.     Vauxhall Corsa
The Vauxhall Corsa has been a firm favourite amongst the best cars for beginners for a long time. In 2021, the Vauxhall Corsa knocked the Ford Fiesta off its 12-year reign as the best-selling car in the UK! But it's easy to see why! The Vauxhall Corsa can suit a range of drivers, including beginner drivers. The recent update to the Corsa in 2019 was a great turning point for the model. The all-new Corsa comes with a new sportier feel, low running costs and a heap load of technology included as standard. If electric cars are more your thing, you should also consider the fully electric Corsa-e which comes with an impressive 200-mile range for a small hatchback.
Brand new from £17,440.00*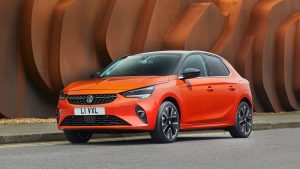 2.     Hyundai i10
One thing that Hyundai has done really well with the i10 is taking a small car but maximising its space. If you're looking for the best car for beginners that don't need to compromise on leg room, headroom or boot space, the Hyundai i10 could be the perfect small car for you. The Hyundai i10 is a four-seater vehicle but has one of the largest boot spaces of any city car by a mile and can also be a great contender for the best small family car too! All Hyundai models also come with a 5-year warranty for added peace of mind too.
Brand new from £13,430.00*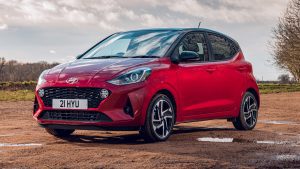 3.     Toyota Yaris Hybrid
At UK Car Finance, we've got a soft spot for the Toyota Yaris Hybrid. It's featured on a number of our latest blogs including the best cars for commuting and cars you can buy for under £10k! The Toyota Yaris Hybrid is a really impressive, affordable hybrid car to get on finance. If you're looking for a small car for beginners and can't decide between petrol or electric, the Yaris Hybrid could be the solution. With this model, long gone are the days of range anxiety as the Yaris Hybrid has an impressive electric range of 80mpg. For a small hatchback, this is around double the economy when compared to other rivals on the market. 
Brand new from £21,460.00* 
4.     Volkswagen up!
The Volkswagen up! was named Auto Express' City Car of The Year 2021 for the 4th year in a row! City cars are great for first-time drivers due to their low running costs, compact size, and efficiency. The Volkswagen up! is big enough for 4 adults but small enough to squeeze into those tricky parking spaces. Some models also fall into insurance category 2 which means they can be one of the cheapest cars to insure on the market today. All new models also come with lots of technology as standard including electronic stability control, multi-function front-facing camera and multiple airbags throughout.
Brand new from £13,060*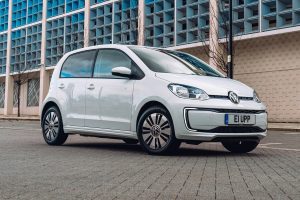 5.     Ford Fiesta
Ah, the trusty Ford Fiesta! After a 12-year reign as Britain's best-selling car, it had to come to an end in 2021. However, the Ford Fiesta should never be overlooked as one of the best cars for beginners! The Ford Fiesta is fun to drive, practical and reasonably priced. There are a number of trims and versions to choose from but if you want to keep costs low, new drivers should choose the lower spec models. However, the basic model comes with lots of modern technology as standard including lane keeping assists, Apply car play, Android connectivity and cruise control. Find out more – best automatic cars. 
Brand new from £18,655*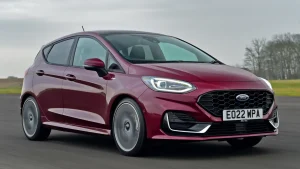 6.     Renault Clio
The Renault Clio is one of those small cars that feels like it shouldn't be in the small car category. The Clio is a great all-rounder for beginner drivers and can offer impressive interior space and one of the biggest boots in its class. The Renault Clio comes with a reassuring 5* Euro NCAP rating and some handy features to keep you safe on the road such as emergency pedestrian detection braking and lane departure warning as standard. The Clio also comes with a five-year, 100,000-mile warranty which is one of the best offered on the market.
Brand new from £18,795*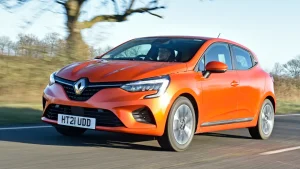 7.     SEAT Ibiza
If you're after something with a sportier feel, the SEAT Ibiza could be the one for you. The SEAT Ibiza can sometimes be overlooked when compared to the Vauxhall Corsa or Ford Fiesta, but we don't think it should be. The SEAT Ibiza is a great choice for one of the best cars for beginners due to its competitive running costs and excellent handling. The Ibiza has underpinnings from Volkswagen models which makes it fun to drive and very responsive. For a first-time driver, the equipment levels are more than generous for the price tag and can make a great first car!
Brand new from £17,755*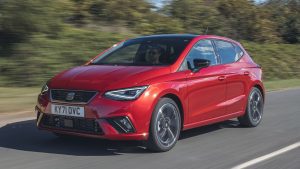 8.     Volkswagen Polo
No list of the best cars for beginners would be complete without a nod to the Volkswagen Polo. The Polo has been a firm favourite with new drivers due to the space provided but still being easy to drive and park. The sporty hatchback is classy, sturdy and holds its value well. The Polo is now in its 6th generation and its latest version has been made wider and sportier with a 25% larger boot space than before! Technology has also been improved on lower-spec models which gives it a more upmarket feel.
Brand new from £18,855*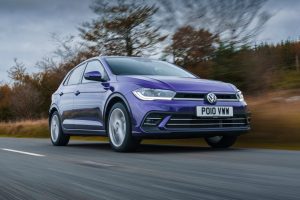 9.     Dacia Sandero
Another car which may be overlooked is the Dacia Sandero. However, the Sandero is actually one of the cheapest cars to buy in the UK! The equipment involved is a little less exciting than some of the other cars on our list of the best cars for beginners but with a low-price tag, five seats and 320-litre boot, you'll not feel like you're missing out. Its massive boot space also makes it a great car for carrying golf clubs and a trolley too! If your budget stretches to it (£13,595), we recommend going for the mid-level 'expression' model which introduces an 8-inch touchscreen with SatNav, Apply Car Play and Android Auto Connectivity.
Brand new from £12,595* 
10.     Fiat 500e
For many drivers, the Fiat 500 is a great choice for any first-time driver and it's the ultimate city car! Now, the Fiat 500e has captured our attention. If you want to finance an electric car for your first purchase, we couldn't recommend the 500e more. It comes in both a hatchback and convertible option and has an impressive electric car range for a small city vehicle. The Fiat 500e comes with a 199-mile range and can charge 30 miles in just 5 minutes! The Fiat 500 is a great contender if you like the look of a MINI but don't want to pay the price tag.
Brand new from £29,435*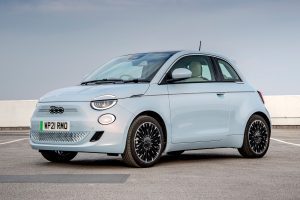 Looking to finance your first car?
Let UK Car Finance help you! With no deposit options, low-rate deals and some of the most trusted finance lenders in the UK, you can get an affordable finance deal on the car you want!
*Prices from brand new at the time of writing (August 2022).