The popularity of automatic cars has proliferated in recent years. With more people than ever choosing to learn to drive an automatic car, the demand for the best automatic cars has increased in 2022. With the UK looking to be more eco-friendly with their vehicles, the popularity of electric and hybrid cars is also more popular than ever as most electric and hybrid models have an automatic transmission. When automatic cars first came to the market, they didn't deliver as well as their manual counterpart however, nowadays many automatic cars can produce better MPG and fuel efficiency than their competitors.
Choosing the best automatic car 2022 doesn't have to be stressful. From small automatic cars to family-friendly SUVs – there are plenty of used automatic cars that you can get a great car finance deal on.  With that said, let's look at the best automatic cars you can buy in the UK.
The best automatic cars you can buy in 2022:
Volkswagen Golf
Tesla Model 3
BMW 3 Series
Ford Fiesta
Skoda Octavia
Fiat 500 Electric
Mercedes-Benz C-Class
MINI Hatch
Porsche 911
Volvo XC40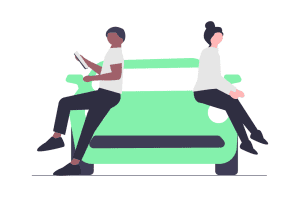 1.    Volkswagen Golf
The Volkswagen Golf can be a great choice for a wide range of different drivers. The beauty of the Volkswagen Golf is that it's small enough for city driving but has sufficient room to be one of the best automatic family cars. We like the Golf's DSG dual-clutch autonomic gearbox which feels great to drive and provides better fuel economy than other models. If your budget is limited, you can buy a Volkswagen Golf for under £10k to help keep costs low and more affordable.  However, the new fully electric Volkswagen e-Golf is really impressive if your affordability can stretch to it! 
2.    Tesla Model 3
It's no secret that UK Car Finance loves featuring a Tesla on our Blog. The Tesla Model 3 has been included as one of our best electric cars, the best cars for your family and also one of the top 10 safest cars available to buy UK. Also, not to mention it was the 2nd best-selling car of the year 2021! The Tesla Model 3 is a fully electric, automatic car with some of the most futuristic technology of any car on the market today. It's a really impressive EV but with a high price tag to match. When comparing electric car ranges, the Tesla Model 3 can produce an impressive 360 miles which could get you from Cambridge to Edinburgh on a full charge!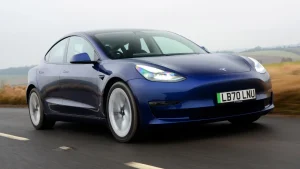 3.    BMW 3 Series
The BMW Series 3 truly is one of the best family automatic cars you could buy. Not only is it spacious and comfortable but it's also stylish and modern. For automatic car enthusiasts, BMW's auto gearboxes have long been popular and really impressive. The latest 3 series model is no exception either with a nippy, 8-speed automatic gearbox. If you're not sure which model is right for you, the BMW 3 Series also comes in a wide range of engine options which makes it a great choice for a number of different drivers. The BMW 330e is also a great plug-in hybrid alternative that comes with an automatic gearbox as standard.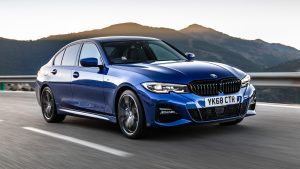 4.    Ford Fiesta
The Ford Fiesta was the UK's best-selling car for 12 years running, that was until the Vauxhall Corsa knocked it off the top spot in 2021. However, the Ford Fiesta is still one of the best cars you can buy today and is a perfect car for beginner drivers and families alike. It's a perfect all-rounder that's never offensive and the Ford Fiesta can suit a range of drivers, it comes with low running costs, space, comfort, and practicality, and it's one of the best small automatic cars on the market. There are a number of petrol and diesel options available but the automatic version comes in a 1.0-litre petrol engine with a six-speed torque-converter automatic gearbox. 
5.    Skoda Octavia
If you're debating buying the Volkswagen Golf, the Skoda Octavia could be the one that turns your head. As part of the Volkswagen group, the Skoda Octavia comes in a range of reliable petrol and diesel engines. If you're looking to buy an automatic car on finance, you'll be pleased to know all models come with the option of a seven-speed dual-clutch. When it comes to owning a Skoda Octavia, you can benefit from low running costs and more space than you know what to do with. The Octavia makes a great car for tall drivers and is a great contender for the best automatic family car. 
6.    Fiat 500 Electric
The Fiat 500 Electric is a great choice for the best small automatic car, especially if you want to help lower your carbon footprint. If you're looking to get a brand-new car, the Fiat 500 Electric version is now Fiat's dominant model and comes with an automatic gearbox as standard. You don't have to worry about range anxiety when buying a small electric car as the larger battery provides 199 miles of all-electric driving on a full charge. The Fiat 500 is a fun-to-drive car that is compact but can be perfect for first-time drivers or young families.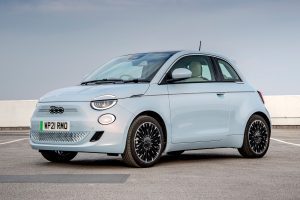 7.    Mercedes-Benz C-Class
One of our more luxurious automatic cars on the list is the Mercedes-Benz C-Class. The C-Class is one of our best cars for commuting thanks to its comfort and good MPG. On the road, the 9-speed automatic gearbox really shines, and the C-Class can handle a multitude of terrains and distances. It's also worth mentioning that the Mercedes-Benz C-Class looks great as well, it's a posh saloon car that offers style and practicality for many drivers.  If you're looking for something more upmarket, the C-Class could be the perfect automatic car for you.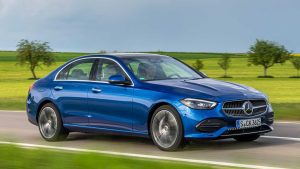 8.    MINI Hatch
The MINI Hatch is one of the most popular MINI models and it's easy to see why. It's a no-nonsense, small car that really packs a punch. The MINI Hatch is available in both 3 and 5-door versions and comes with an automatic gearbox in many models. There's also an all-new MINI Electric which comes with the automatic transmission as standard. The automatic gearboxes make the MINI Hatch even more fun to drive and zippy around the city streets.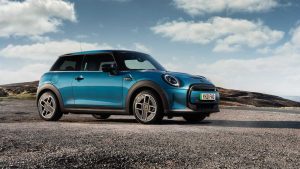 9.    Porsche 911
It wouldn't be fair to make a list of the best automatic cars UK without bringing you a diverse range and at the top of the price list is the Porsche 911. Whilst the Porsche 911 is expensive to purchase. However, car finance deals can make it more accessible to many drivers. The Porsche 911 truly is one of the best sports cars you can buy, with some of the most sophisticated interior stylings we've seen and a super-fast automatic transmission. The automatic version of the Porsche 911 is more popular amongst UK drivers than its manual competitor and it's faster too!
10.    Volvo XC40
The Volvo XC40 is one of the best family cars you can buy on the market and makes a great choice for an automatic SUV. It's a small, premium SUV that excels in high-end technology and comfort whilst not being too showy. The design of many Volvo models tends to be quite minimalist but with a modern twist. Just like many of the other Volvo models, the XC40 comes with some of the best technology around and some top-tier safety features. All XC40 versions come with an 8-speed automatic gearbox as standard.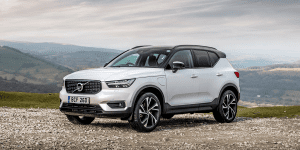 Finance an automatic car
Looking to finance any of our best automatic cars? We can provide you with low-rate car finance deals with no deposit required! Get a free, no-obligation quote today with no effect on your current credit score.